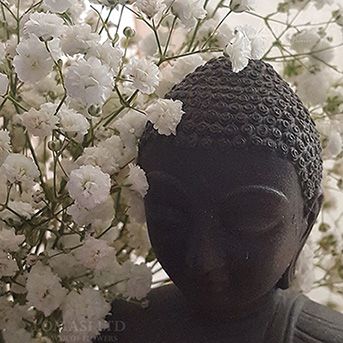 The Gypsophila is a flower which amplifies your intentions.
WHAT IS FLOWER THERAPY
Flower therapy is all about connecting with one of mother nature's most wonderful gifts; the flower. Each flower has energy and a message for specific needs and desires.

Flower Therapy involves working with nature, which includes working with the spirits of nature, whether it's fairies that you believe in or angels, when working with flowers, these energies automatically influence you.

In today's busy technologically driven world, we are constantly on the move and forget to take time to connect with what is going on within us. Working with flowers helps you to connect with yourself more spiritually and connect with the healing energy they provide.
My intention for Flower Therapy Workshops, are to help people to develop a connection with flowers and help reignite a passion they once had inside or to tap into the creativity that is within. Creativtiy comes in a form of many things, it could be art, writing, poetry singing, the list goes on. As we go through our journey called life, life itself can get in the way. There may have come a day when you stopped and thought where has all the time gone. You begin to remernise on times that have gone by, the person who you once used to be, this could be due to you having raised children, you may have be a Carer, caring for a family member. Times slips away before you know it and you've forgotten what use to light you up.
Being in contact with flowers also give you a sense of joy and relaxation. Sometimes we are unable to get out in nature, this could be due to living in the city where there isn't much greenery around or if you are elderly and find it difficult to get out and about. The beauty of my Flower Therapy Workshops is that I bring nature and it's energy to you.
We all know how a walk in the park or in the countryside can help clear you mind and make you feel just that little bit better about ourselves. The energy of flowers can do just this, when you work with the flowers you forget all your troubles and stresses and become present in your mind.