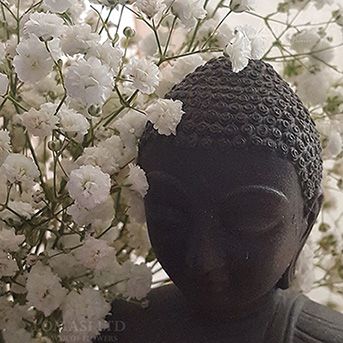 The Gypsophila is a flower which amplifies your intentions, helping you to prioritise things in life.
WHAT IS FLOWER THERAPY
Flower therapy is all about connecting with one of mother nature's most wonderful gifts; the flower. Each flower has energy and a message to help us with our specific needs and desires.
Flower Therapy involves working with nature, which includes working with the spirits of nature. We all know how flowers can brighten up a room with the colours and the natural perfume they possess. They can enhance the mood of a person just by being presented as a gift. For me this is the first step with flower therapy, it's a connection with the eyes. Flowers evoke many emotions within us, through sight, touch and scent. Emotions which can trigger reactions of comfort and familiarity transporting us back in time to a place of memories such as childhood or to past loved ones.
Flowers help you to relax your mind and become present in their energy and the essence of oneself. Without realising it, when working with flowers the natural quintessence automatically influences you, transporting and conveying its healing message to you.
In today's busy technologically driven world, we are constantly on the move and forget to take time to connect with what is going on within us. Working with flowers helps you to connect with yourself more spiritually and connect with the healing energy they provide.
We all know how a walk in the park or in the countryside can help clear your mind and make you feel just that little bit better about yourself. Any worries you had suddenly seem to disappear or you find you have a solution to a problem. The energy of flowers can do just this, when you work with the flowers you forget all your troubles and stresses and become present in your mind.
For me when I am working with flowers creating arrangements or preparing them for workshops, time runs away with me. I am swept up in their beauty, structure, scent and colour and most certainly their energy. When I tune into each different flower to receive the message that they have to pass on to those that are in need of it, leaves such a feeling of nourishment to my soul.